TANGONERO SEXTET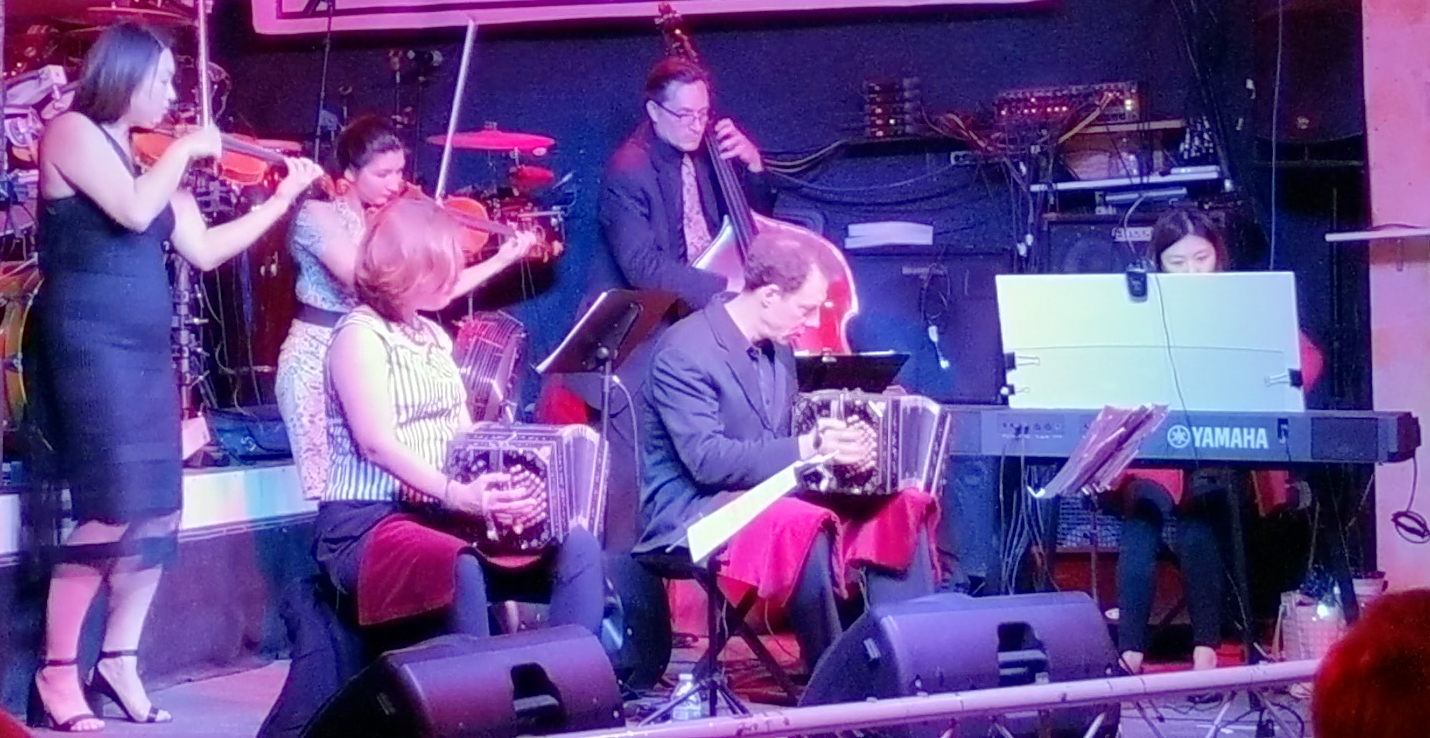 Tangonero Sextet is a combined effort of the San Francisco band Tangonero joined by the fellow guest players from the Bay Area (Charles Gorczynski, bandoneon) and Los Angeles (Keiko Cadby, violin). Keiko Cadby, pianist Celeste Chiam, and the band leader of Tangonero, Alex Roitman, are all active members of the Stowe Tango Music Festival Orchestra. They have shared stage with legendary tango musicians such as Victor Lavallen, Horacio Cabarcos, Pablo Estigarribia, Jose Colangelo, Pablo Agri, Nicolas Ledesma, Humberto Ridolfi, Julio Pane, Néstor Marconi, Pablo Ziegler, as well as the members of Hector Del Curto's quintet.
Born and raised in Moscow, Russia, Alex Roitman began playing the piano when he was 7 years old. He has studied accordion with Peter DiBono, San Francisco's premier accordionist. During his accordion years, he enjoyed playing Klezmer, Italian, French musette, and Russian music. His playing has been featured in "Pure Piaf", a musical about the life of Edith Piaf. Alex's passion for Argentine Tango led him to study the bandoneon, first on his own, then with Ville Hiltula, and finally with Hector Del Curto. As a bandoneonist, Alex plays locally in San Francisco where he leads his band Tangonero. He is also a member of a Stowe Tango Music Festival tango orchestra, and a bronze medalist in the 2018 Che Bandoneon International Competition. Alex shared the stage with legendary tango musicians as Victor Lavallen, Horacio Cabarcos, Pablo Estigarribia, Jose Colangelo, Pablo Agri, Nicolas Ledesma, Humberto Ridolfi, Julio Pane, as well as the members of Hector Del Curto's quintet. In addition to his bandoneon work, Alex has composed several tango pieces and continues to work on transcribing and arranging great tango music of the past.
Oakland, California based composer and bandoneonist Charles Gorczynski writes modern tango and contemporary chamber music without stylistic restriction. As leader of the acclaimed bay area sextet Redwood Tango Ensemble and member of Barreiro Tango Trio, he has toured extensively in North America and Europe, including performances in San Francisco, Los Angeles, Chicago, New York, Portland, Seattle, Montreal, Pisa, and Rome.  Gorczynski has performed Astor Piazzolla's Bandoneon Concerto "Aconcagua" with composer Mason Bates' Mercury Soul Orchestra, has worked with the California Symphony, San Jose Chamber Orchestra, Civic Orchestra of Chicago, and has debuted his compositions on concert bills with the Kronos Quartet, Friction Quartet, Diego Schissi, and Tango Sin Fin.
Keiko Cadby has been performing Tango for the last 10 years, and joined the Southern California-based 'Los Angeles del Tango' ensemble in 2011. Over the last 20 years, Keiko has played in venues worldwide, including Carnegie Hall in NY, and several locations in Japan, France, Argentina, England, Scotland, Italy, and Czech Republic; as well as in some of the largest concert halls/stadiums on the West Coast (ARCO Arena in Sacramento, Cricket Wireless in Chula Vista, HP Pavilion in San Jose, Honda Center in Anaheim, MGM in Vegas, and many others), and TV, commercials, film soundtracks, and live radio (NPR). She has performed, toured, and recorded with artists such as Jeffrey Kahane, Marco Antonio Solis, Joan Sebastian, and Alejandro Fernandez, and Hauschka; originally from the Northbay, she won local awards as a young student, including the Mary Paige Phillips Award and the Command Performance Award from California Music Educator's Association of the Bay Area, and placed first in competitions including the Yen Liang Young Artist Competition in Walnut Creek, the Ruth Finley Person Etude Music Club and Santa Rosa Youth Orchestra Concerto Competitions throughout Northern California. She has been invited to work and learn with artists such as Pinchas Zuckerman, two-time GRAMMY®-nominee Philip Quint, and GRAMMY®-nominee Fabio Zini.
Born in Malaysia, CelesteChiam began her musical journey at the age of four. The music path unfolded naturally for Celeste as she continued pursuing piano performance in the US, earning her Doctor of Musical Arts degree from the Conservatory of Music and Dance at the University of Missouri-Kansas City. Winner of several piano competitions, she has been featured as the soloist accompanied by collegiate and professional orchestras. As a trained ballet dancer of 16 years, Celeste immediately recognized her love at first sight for both the music and dance of Argentine tango. Upon discovering the Bay area tango community, she joined L.O.F.T (La Orquesta Fusion Tango) ensemble to cultivate her new found passion, and was subsequently led to Tangonero. Celeste receives coaching from highly esteemed tango musicians, Pablo Estigarribia, Adrian Enriquez, Nicolas Ledesma, Emilio Solla, and Hector Del Curto to refine her skills. Aside from her devotion to music education, Celeste is enthused about her current and future endeavors in tango music and dance, which she affectionately conveys in her immersive performance.
Originally from Alaska, bassist Richard Duke began playing electric bass as a teenager and took up the double bass in college. With degrees from University of California Santa Cruz (BA) and Northwestern University (MM) Richard performs throughout the Bay Area with numerous groups presenting Opera, Symphonic Orchestra, Ballet, Tango, Salsa, Jazz, Broadway shows, Cabaret and Rock and Roll. Richard is a member of the Monterey Symphony, Napa Valley Symphony and Sacramento Philharmonic, as well as occasional substitute player with San Francisco Ballet, San Francisco Opera, Philharmonia Baroque, and numerous Broadway productions. Show credits include Color Purple, Wicked, Spamalot, Legally Blonde, Young Frankenstein, Beauty and the Beast, West Side Story, Chicago, Light in the Piazza, Edward Scissorhands.
Yuri Kye is a violinist and violist who is an active performer and educator. She is a member of Sarasota Opera in Florida, and performs regularly with orchestras in the Bay Area and beyond, including Monterey Symphony, Merced Symphony, Opera San Jose, Berkeley Symphony, and more. A dedicated chamber musician, Yuri is a founding member of the San Francisco-based Alden Trio and the lead violinist of Elevate Ensemble, a group focused on obscure and contemporary chamber music repertoire with unconventional instrumentation. An active session musician and crossover artist, some of her recent studio credits include albums by Matt Nathanson, Jennifer Hudson, Natalie Dawn as well as the soundtrack to the film "Torch" by Christopher Coppola, and she has collaborated with the likes of Deltron 3030, Third Eye Blind, Ten Tenors, and The Album Leaf.
Tangonero video: