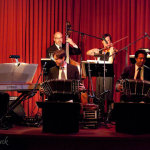 Seth Asarnow is a native of the Bay Area and a bandoneonist with a repertory consisting of hundreds of tangos. His playing is heard on recordings that range in style from traditional tangos to rock. He has composed film scores and has played on film soundtracks, and he works regularly with some of the finest tango dancers in the world.
Seth's musical influences include Aníbal Troilo, Leopoldo Federico and Astor Piazzolla, whom he met in 1989. He continues to promote the tango locally, teaching bandoneon and playing both public and private engagements. He often directs and performs with his 'Sexteto Tipico," one of the few authentic traditional tango groups in the United States. They have successfully performed at the most important milongas and Tango Festivals in the US, including our Official Argentine Tango USA Festival and USA Championship last April 21-24, 2011.
He has been a featured soloist at Davies Symphony Hall with the San Francisco Symphony and has performed Piazzolla's Four Seasons with Donald Runnicles and members of the San Francisco Opera Orchestra. He has also performed with the Santa Cruz and San Jose Chamber Orchestras and has toured Japan with his own trio. Recent appearances include NBC's "Dancing with the Stars" where he performed with the show "Forever Tango."
They will play at the Gala Milonga on Saturday April 15!