Patricio Touceda & Eva Lucero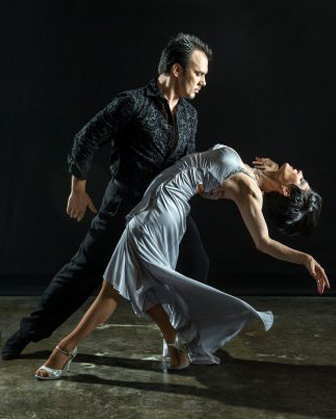 Eva and Patricio have danced together since 2001. Both of them started dancing at a very young age in their native city of Buenos Aires. Eva started at the age 7 as a ballet student.
Patricio was 10 years old when he took his first folk dance class.
They have more than 20 years of experience as professional dancers.
In the most recent years Eva and Patricio starred in different major productions, the most notorious including Luis Bravo's Forever Tango Show; and ZAIA, the first show staged by "Cirque du Soleil" in Asia, at the Venetian Hotel in Macau. Eva and Patricio are the first and only Argentine Tango couple to be part of this world famous company.
At the moment Eva and Patricio spend their time with their baby girl Anuk, who was born in May 26, 2010. They are also working on the creation of their new show TANGO SCENT, which was presented to the public in October 2010.
Besides being passionate about dancing, Eva and Patricio have a great reputation as dance instructors. They have taught in Argentina and traveled many times around the world to teach special workshops to students of all levels. In the Seattle area, they have contributed to grow and promote Argentine Tango for the last 7 years, introducing many dancers to  Tango. Many of them have become instructors already, which make Eva & Patricio masters of teachers.