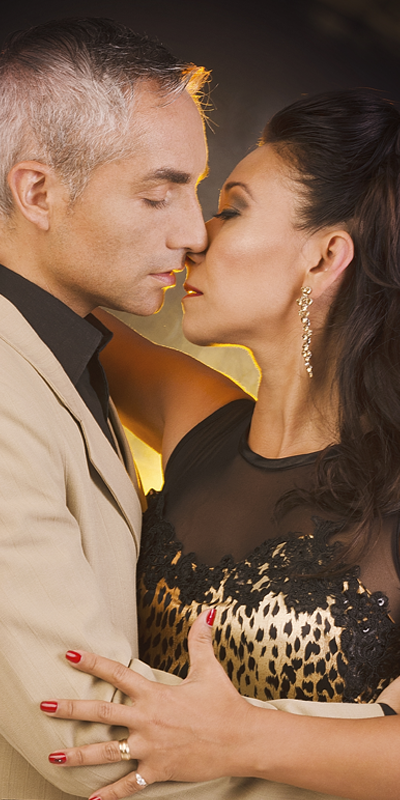 Paloma Berrios & Maximiliano Alvarado, native from Santiago – Chile, have been dancing together for more than 27 years. Since they were young, they have shared the passion for Argentine Tango as heritage from their parents. They were formed in Chile and in Buenos Aires, with many argentine masters like Carlos and Rosa Perez, Eduardo Pareja, Fernando Galera, Romina Levin, Silvia Toscano, Fabian Peralta & Josefina Bermudez and Los Totis, among others; getting the knowledge and the culture of argentine Tango from them.
They won the 2nd place in 2007 in the Worldwide Tango Championship in Buenos Aires and the 1st place in 2008 in the Trex Games TAFISA worldwide competition in South Korea.
Organizers of the "Miami Marathon Milonguera", taking place every January in Miami, Florida. Members of AMBCTA – Association of Masters, dancers and Choreographers of Argentine Tango, in Buenos Aires – Argentina.
As performers, they are energetic, fun and technical. As teachers they define their style as a salon tango, prioritizing the close embrace but always being open to the elasticity and comfort at the moment to dance.

They have been performing in the most known and traditional Milongas in Argentina (Buenos Aires) like, Milonga del Moran, Cachirulo, Parakultural, Seguime si Podes, La Baldosa, Yira Yira, Si Tango, Milonga del Moran, La Baldosa, among others.
Nowadays based in Miami – Florida, USA, they have been touring through South and North America and part of Europe, teaching and performing in uncountable Casinos, Convention Centers, Hotels and TV shows.

Invited to teach and perform in the biggest and the most important Tango Festivals across US and Mexico like Valentango – Portland OR, Tucson Tango Festival – AZ, Tango on the Rocks – Denver CO, Pittsburg Tango Festival – PA, Windy City Tango Fest – IL, ATUSA – San Jose CA, Albuquerque Tango Festival – NM, San Diego Tango Fest – CA, NOLA Tango Fest – LA, Burning Tango – CA, Miami Sunshine Tango Fest – FL, Las Vegas Tango Festival – NV, Bajío Tango – Leon, Mexico, San Miguel de Allende Tango Fest – México, Puerto Vallarta TF – México
They were touring all around the USA, for 3 months in 2022 with "Tango Argentina Company" Focused on promoting the argentine Tango and their culture around the world from the connection and the joy through one of the most passionate dances in the world.