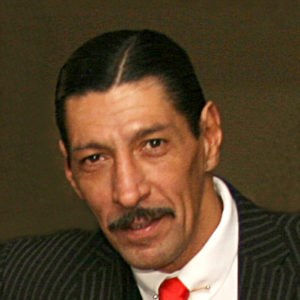 Omar is an exceptional and gifted dancer, a passionate milonguero and folklorista. Born in Entre Ríos he started his professional career in Buenos Aires when, at age 16, hearing of the dance master Santiago Ayala, "El Chúcaro", he discovered his mentor and spiritual father.
"El Chúcaro" and Norma Viola invited Omar to join their folkloric company Ballet Argentino. Omar quickly progressed to be the lead dancer and dance master of the company, travelling round the world with them for eleven years. During this time he created lead roles in some of the most important masterpieces in the genre: El Martín Fierro, La Vida de San MartÍn, Homenaje a Ezequiel Navarra, Juegos Pampeanos and the famous Del Gaucho Al Compadrito, specially choreographed for him by "El Chúcaro" and noted for containing a beautiful and tasteful disrobing during his transformation from gaucho to compadrito.
While pursuing his folkloric career, Omar was for several years a member of the Juan Carlos Copes tango company where he met his wife Mónica Romero and, as Los Ocampo, they went on to tour the world performing, teaching and choreographing.
Today considered the best dancer of Argentine folklore, Omar is the repetiteur and curator of the choreographies of Santiago Ayala "El Chúcaro" and Norma Viola and their natural successor. As an honorary teacher, each time he returns to Argentina, he gives classes of Folklore to the Ballet Folklórico Nacional. He is a senior judge at many folkloric and tango competitions.
As a choreographer Omar is an exponent of all the Argentinean dance forms. His show Tango Bravo, developed with his wife Mónica, blends Tango with Folkloric dance; and, he also choreographed for Tango Pasión and Mariano Mores' show.