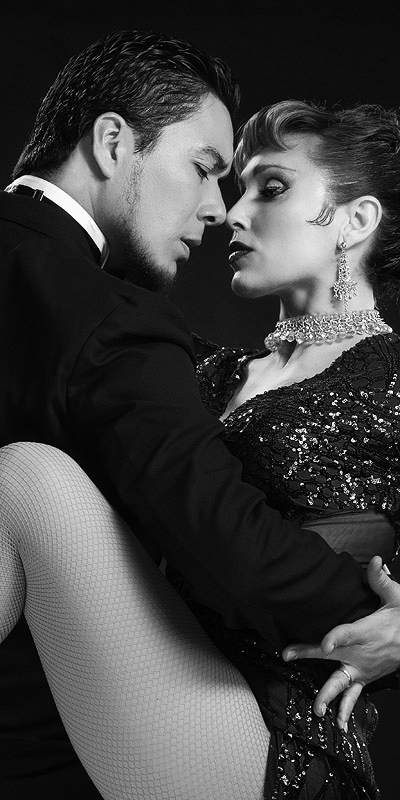 Miriam & Leonardo are both from Argentina. Trained in Ballet, Jazz, stage and social TANGO.
Miriam is Famous as the iconic image of The Broadway-London hit "Forever Tango"
She has performed as well on several Broadway's Musicals such as
"42nd ST", "Me & My Girl", "Mambo Kings" among others.
Leonardo featured at the Stage Production " Forever Tango"
He also appeared at the most prestigious Tango Houses in Buenos Aires, performing and choreographing for their Spectacular Shows.
Miriam & Leonardo's own Productions:
"Los Angeles de Tango Festival"
"Los Angeles de Tango Cruise"
Owners of "Celebration Dance Studio" in Tustin CA
Miriam & Leonardo were invited by producer Nigel Lythgoe to perform at His T V program as
special guest and since then, they are the TANGO choreographers for
FOX & BBC's "SO YOUTHINK YOU CAN DANCE"
(Current Choreographers since 2009)
Guest Performers at Latin GRAMMY Awards 2014
Performing Together with Ruben Blades on the presentation of his new CD "Tangos"
and also in 2017 Performing along with L"ila Downs & Banda El Recodo"
Together they have an international reputation as Instructors, performers and choreographers of Argentine Tango and now they are sharing their mastery, passion and magic.
Miriam Larici & Leonardo Barrionuevo are considered at the moment one of the top Tango Couple of the World.
FOX's & BBC's "So you think you Dance" Current Tango Choreographers Since 2009
NBC's "Superstars of Dance" Champions 2009ABC's "Dancing with the Stars"
Tango Choreographers 2011/12/13/ 16/ 17NBC's "America's got Talent"
Guest Performers 2012UNIVISION's "Latin GRAMMY Awards"
Guest Performers 2014 & 2017Stars at CHASE BANK's TV Commercial 2015/16/17
Co-Stars at ABC's TV Series "The Catch" 2016