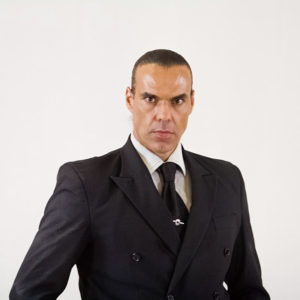 Junior Cervila was considered by New York newspapers "the Gene Kelly of Latin Dance". Originally born in Brazil and based in Buenos Aires, where the tango got into his blood, has an extensive professional history that includes performances on Broadway (NY) at Gershwin theatre with "Tango Argentino", also performed at Lincoln Center and Town Hall in New York, danced in the film "Tango" by Carlos Saura, flim which was nominated for the Academy Award as Best Foreign Film.
Junior travelled the world with Julio Iglesias´Show. He filmed for the BBC with the prima ballerina of the Royal Ballet of London, Deborah Bull, and developed one of the leading roles in the successful musicals "Tanguera", "Piazzolla Tango" and "Tangorama". He was elected to a private tango show the Rolling Stones on tour in Argentina in 2007.
He danced with the orchestra of Daniel Barenboim in late 2006 and in Buenos Aires at Luna Park, Gran Rex, Teatro Opera, Teatro Colon and the Nueve de Julio in a historic concert of "Tango Argentino" to 15000 people.
Since 2001 Junior runs his own company "Latin Dance Company" in which fuses salsa, tango, samba and flamenco.He is considered by many as the best and most versatile dancer nowadays.
He starred "Tanguera" in Amsterdam, London (Saddlers Wells), Basel, Munich, Paris (Theatre du Chateler), and traveled USA, Moscow and Italy with his own show.
2014 to 2016- He was the choreographer of "Piazzolla Tango" and "Tango Porteño", two of the most prominent tango shows in Buenos Aires seasons.
Also he has been an official judge at the finals of the Tango Dance World Cup in Buenos Aires.
2017 – Official Judge at ATUSA Official Tango Championship and Festival, US branch of Tango Buenos Aires dance World Cup
2017- Cast of Loyd Webber's "Evita"