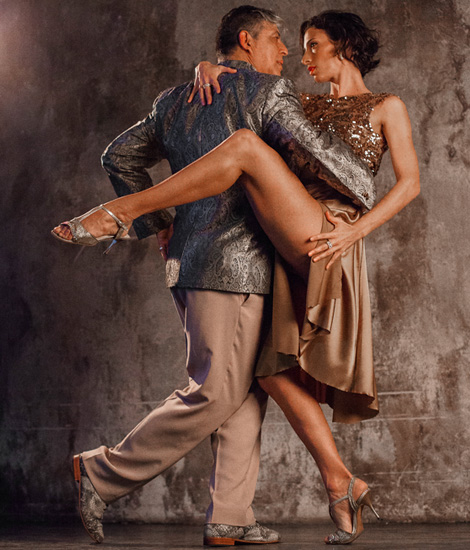 Coming from different backgrounds, Julio and Virginia started to dance together in 2015. 
Julio, Argentine tango dancer and choreographer, is considered one of the most important teachers around the world due to his unique style and pedagogy. He started his career in 1996 . In 1998 he performed in Broadway with "Forever Tango", whose staff was nominated for the Tony Awards for the best choreography. He also  performed at The Carnegie Hall, in a tribute to Astor Piazzolla together with Pablo Ziegler, Paquito de Rivera and Gary Burton. In 2008 he choreographed his own show "Corazon a
Corazon" in Tarbes, France. During 2011, he performed and choreographed  the musical "Tita, Una Vida en Tiempo de Tango" directed By Nacha Guevara in Buenos Aires and he was nominated by the ACE Award as the best choreographer of the musical. In 2013, he participated in the show "Tango Tranzas" in Sydney, Australia. He is an official Judge Member of  the Tango Buenos Aires Festival & Dance World Cup (Mundial y Festival de Tango de Buenos Aires) since 2003.
Virginia took her first dance steps in her mother's gym at age five and later she studied classical ballet and artistic gymnastics.  She graduated as a translator of English at the Faculty of Languages in the Province of Cordoba.  She is a Jazz dance teacher, proficient in Yoga, stretching, classical ballet and contemporary dance. She moved to Buenos Aires in 2008 and immediately  became a member of the famous DNI Dance Company and School until 2015. She has performed in the most prestigious Milongas and Theaters of Buenos Aires as well as the most important international Festivals around the world. She has been teaching Tango in different cities of Europe, USA, Canada, Oceania and Asia. She is an official Judge Member of the Tango Buenos Aires Festival & Dance World Cup (Mundial y Festival de Tango de Buenos Aires)
She developed a Tango technique based on Yoga and biomechanics, which is well-know for being organic, natural, comfortable and healthy for the body.
Julio and Virginia have created a unique style recognized for their interpretation of the music and their dynamic. They combine elegance with technique, elasticity with strength, to create the perfect ingredients for beautiful, passionate and talented tango. They travel the world as teachers, dancers (in theatres, festivals and milongas), choreographers and as Judges of Tango Championships.
VIDEOS: