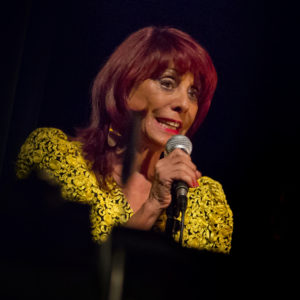 Born in Cordoba, Argentina, a consummated teacher, dancer and choreographer, Gabriela started her artistic career in Argentina in the 70's with her flamenco group 'Gabriela Rojo y los Cordobeses' performing in important events like Miss Universe, Miss America and from an early age, tango and folklore got her attention.
She travelled around the world performing Tango, Flamenco and Folklore Argentino in luxury cruise lines, night clubs and casinos in Vegas and Atlantic City.
After moving to the US in 1979, her love and passion for the dance became her life and tango became her real joy. She often went back to Argentina and kept taking classes with the Masters of Tango Argentino.
In 1985 she met Osvaldo Zotto and Lorena Emocida during a festival in Miami where she was a juror and later in 1990 she decided to hire them and bring them to Canada starting a long life of successful events in Vancouver, British Columbia where she resides.
From then, Gabriela's life changed and she became one of the most powerful tango organizers in Canada. She opened in Vancouver her School of Tango Argentino in 1997 and as producer, organizer and MC of countless Tango shows and Galas often with live Rioplatense music groups she has brought the very best Tango international figures to Vancouver and organized small competitions with her students. This new approach was the key to open a new chapter for tango Lovers in Vancouver and other Canadian cities.
In early 2000, Osvaldo Zotto came to a Festival to Vancouver where he performed with Julio Iglesias. Gabriela remembers with pride when Osvaldo told her: "Gabriela, you have put Vancouver on the world map"
Gabriela has organized tours to Buenos Aires where her students can experience the true Buenos Aires tango life, going to the championships and milongas
Now Vancouver has a lot of Milongas, shows and workshops. In October another competition will take place in Vancouver.
Recently she brought Alejandro Ziegler Quartet for a Canada tour and gave Vancouver the opportunity to dance with authentic live tango music
Thanks to Gabriela[s contribution, many people in Canada make tango a very important part of their lives.
Gabriela Rojo is happy to take her efforts, experience and enthusiasm to San Francisco.