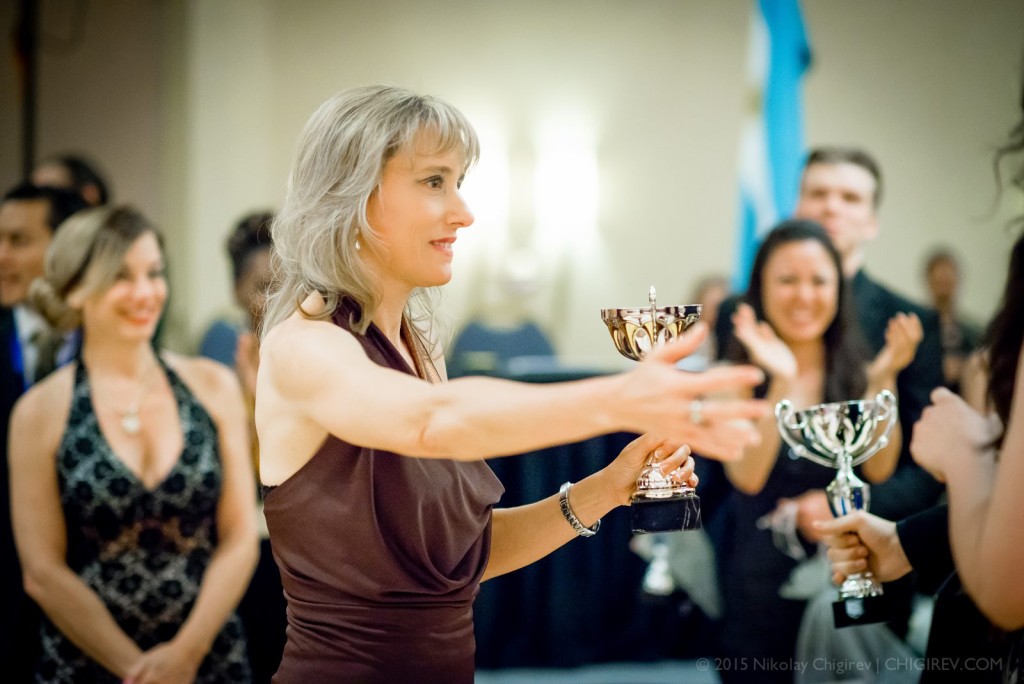 Andrea Monti has been the Founder, Producer, Organizer and Director of "ATUSA" Argentine Tango USA Official Championship & Festival, – the official sanctioned branch of Tango Buenos Aires Festival & Dance World Cup (Festival y Mundial de Tango de Buenos Aires) in the US-, since its beginnings in 2011.
In 2015, Andrea Monti partnered Adrian Durso, tango maestro, dancer and singer, who she married in 1918. Together, they have directed all teaching and performance activities, organized milongas and worked hard in the planning, organization and direction of ATUSA Official Championship & Festival.
Andrea Monti has been teaching and dancing professionally all over the world for over 25 years, -since 1997. She gained fame and popularity as a tango maestra due to her pedagogical training and personalized teaching method. She also has great international reputation as a dancer because of her outstanding technique, walking style and elegant moves, a mixture of power and sensuality, – representing the traditional salon style of Buenos Aires.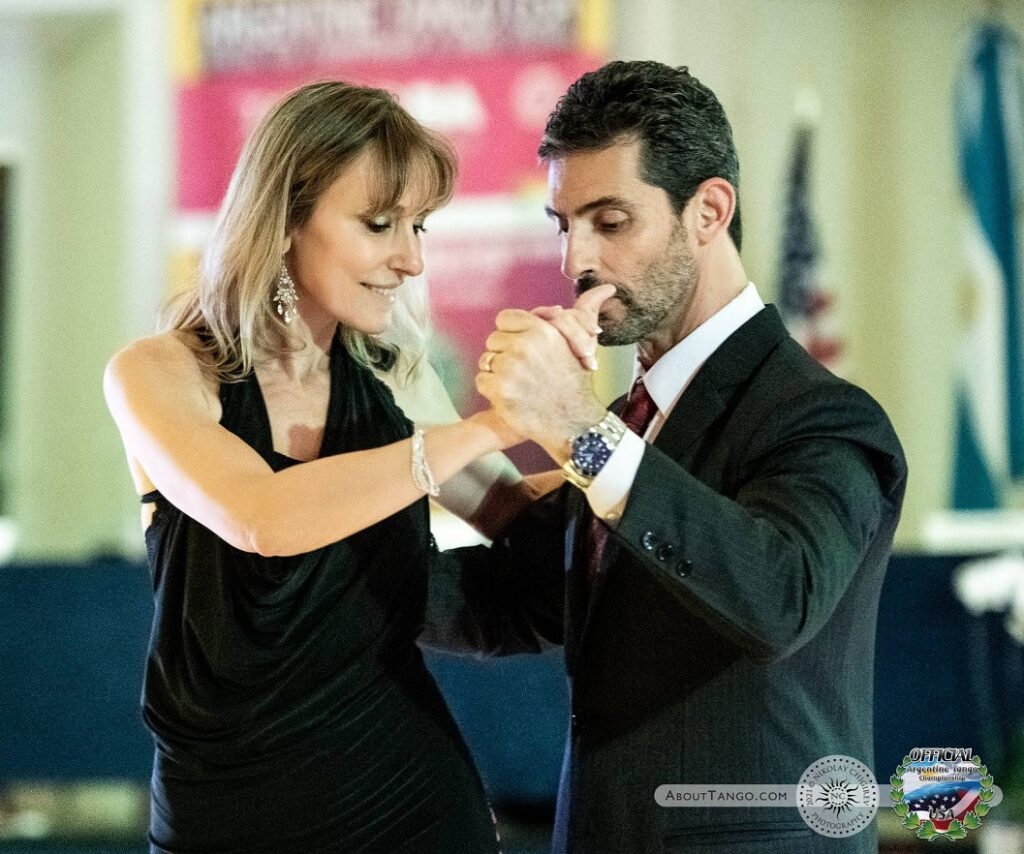 Andrea has been an active delegate member of the Association of Teachers, Dancers and Choreographers of Argentine Tango in Buenos Aires since its creation in 2001.She was selected as an official Judge of the "Mundial de Tango de Buenos Aires" that is organized yearly by the Ministry of Culture of the Government of the City of Buenos Aires in 2010 and 2011.
Since 2003, Andrea has been working with constant devotion contributing with her experience and knowledge to the growing and development of both the existing and new tango communities in the USA, especially in the main cities in California and in the South Bay area where she is now based.
HISTORY
Andrea studied, trained and became a tango dancer and teacher in her native city of Buenos Aires. Andrea´s dance background includes two decades of modern jazz, four years of classical dance, and 5 years in gym-jazz and competitive aerobics dance.
She has been in contact with tango as her parents were faithful tango fans who introduced her to the magical world of dancing when she was very young.
In 1994-, she became deeply involved in tango schools, cultural centers and tango "prácticas" such as "La Galeria del Tango", "Centro Cultural Rojas" and "Cochabamba". Then, she continued her studies as a professional tango dancer and perfected her technique with distinguished masters and dancers, among them Susana Rojo, Graciela González, Esther and Mingo Pugliese, Alejandra Arrué, Gustavo Naveira, Olga Besio, Roberto Herrera and Andrés "Tanguito" Cejas.
Her solid training as a professional Tango dancer is based on the contributions of these tango masters as well as her previous and parallel intense studies in contemporary jazz dance, technique and stretching. **
She has great international reputation as a dancer because of her outstanding technique, walking style and elegant moves, a mixture of power and sensuality, – representing the traditional salon style of Buenos Aires.
Andrea has a reputation and gain recognition because of her immense dedication to dance and teach passionately, and for respecting the roots and cultural traditions of tango. Andrea's instruction is progressive, challenging and comprehensive. Andrea studied Foreign Language Education at Teacher´s College and Graphic Design at the University of Buenos Aires (Design and Urbanism). She finished those studies in 1991 and 1994 respectively which has helped her tango career as she learned about quality teaching and student teacher relations. These classes included: Theory of the learning process; Theory of the education process; Psychology; Methodology; and the practice of teaching; Management & School organization; Ethics and Professional Deontology, Philosophy and Sociology. Due to her dual education in dance and liberal arts, and her experience in teaching and directing groups of all ages, her tango classes and technique workshops/seminars have been requested in many cities around the world for many years.
Since 1998, she has been directing ladies technique workshops, using a method and system that she has developed through years of experience and drawing from her studies in tango, in technique and in the modern-contemporary jazz dance. Her objective is that the student reaches the best possible technique and dance level according to their learning capabilities through a series of exercises carefully designed and framed within a system she has created so that the learning process happens in a natural, gradual way, making it incredibly effective.
Andrea performed and taught endless workshops series both in Argentina and around the world, being the most visited countries the USA, England, Italy, Spain, France, Scandinavian countries, Australia, New Zealand, Malaysia, Singapore, Indonesia, Brazil and Costa Rica.
ANDREA has participated in several international events and tango festivals such as:
Argentine Tango USA, – Official USA Tango Championship and USA Tango Festival in San Francisco, CA (as dancer and teacher in 2011, and as the organizer and Director 2011-2020)
Alberta First 12 Day Argentine Tango Extravaganza FESTIVAL in Calgary, CANADA in 2012
Moonlight Tango Festival, in Vermont, 2011
Pulpo´s Tango Week in Buenos Aires, Argentina (2005, 2006 and 2007), Río de Janeiro Tango Festival in Brazil (2005), PortlandTangoFest, Portalnd, Oregon, USA "Segundo Encuentro Internacional de Tango" in Spain, 2004.
Andrea and her partner choreographed and performed at dinner shows as guest of honor in Bali, Singapore and Kuala Lumpur in 2004 and 2006.
While in Singapore, Andrea starred in a TV commercial that was broadcasted throughout Asia for the Ministry of Tourism in Singapore.
Andrea and her partner Adrian Durso were featured in different shows, being the most important:
"Saving Lives" Gala event produced by CSF Foundation of Bakersfield, California on November 17, 2018 at the Seven Oaks Country Club, Bakersfield, CA.
"El Mundo is the World" tango show, -produced by Villa Urquiza Productions- with Orchestra Victoria from Buenos Aires. The show was on tour throughout main cities in California during November 2016 with several performances at main theaters like the Herbst Theater in SF, Sherwood Hall in Salinas, Trianon Theater in San Jose, Lincoln Theatre in Napa Valley, and Alex Theatre in Glendale, among others.
"Feria Internacional de Biotegnología" (2016 BIO International Convention) at the Moscone Center in San Francisco on June 7, 2016.
"Alma de Tango" Show at the San Francisco Art Festival on May 20, 2016 and were the featured couple at the"Special Holiday Season Tango Event" with Tangonero Band at the JCC Theatre) Palo Alto, CA, December 19, 2015
Andrea also performed at several tango shows with other partners:
"Una Noche de Tango" Show (with professional dancer Diego Lanau), singer Claudio Ortega and Tangonero Band, San Francisco, CA September 2015 and 2014.
"Horacio de Buenos Aires" at the Maipo Theatre, Buenos Aires, Argentina, (with professional dancer Adriano Mauriello), June 2013
"Voces del Mundo" at the National Auditorium and at "Gran Hotel Costa Rica" in San José de Costa Rica, October 2005
"Las Estrellas del Tango" in Costa Brava, Spain, 2003
Andrea created, choreographed and was a member of the tango-dance group "Sin Ellos" performing mostly in Barcelona: August and September 2002-2003.
"Tango a Media Luz" in Sonoma, California, USA
"Tango Takes Two" Company, at the Cremorne Theatre in Brisbane and The Playhouse Theatre in Perth, Australia.
Additionally, she performed in famous show clubs, tango bars, and traditional milongas of Buenos Aires, such as Confiteria Ideal, El Parakultural/Salon Canning, Mansion Dandi and La Nacional, working mostly with "Los Reyes del Tango" one of the most acclaimed orchestras
**Starting in 1984, Andrea studied modern-jazz at different dance schools and institutions in Buenos Aires for many years. She has been influenced by one of the best jazz dance masters and choreographers, MANUEL VALLEJOS, who was her teacher for 12 years. She participated in a great number of dance events and presentations in many distinguished theatres and auditoriums "porteños", such as: "Astros", "Alvear", "Coliseo", "El Globo", "Auditorio de Belgrano", and "La Plaza Complex", where she danced under the direction of master Manuel Vallejos.
She also studied a few years of classical technique and stretching with recognized Master Monica Souto.
Andrea directed groups of children and adolescents in different institutions and schools for five years. One of her groups got the first prize in the National Competition "All the Dance", category Jazz-Dance adolescents, which took place in the famous "Astral" theatre in December, 1996.