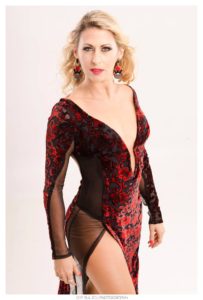 Analía Centurión is an internationally renowned Tango dancer and instructor. From the tender age of 6, her studies included piano and classical ballet. She began to dance Argentine Tango in 1995. Two years later she became stage tango champion in the most prestigious youth competitions in the province of Buenos Aires.
Her trajectory includes dancing with the companies of Juan Carlos Copes, Mora Godoy and the great Mariano Mores and at some of the most famous Tango Dinner/Shows of Buenos Aires: Piazzolla Tango, Madero Tango, La Ventana Tango and many more.
In Buenos Aires, she learned with great milongueros such as Mingo Pugliese, Puppy Castello and Gerardo Portalea. Performing in the most famous milongas: La Baldosa, El Parakultural, Sunderland Club, etc. She also studied and graduated from the academy "Estilos de Tango Argentino".
Most recently she has represented her Argentine Culture in the Vail International Dance Festival, along great stars of the American Ballet Theatre and Martha Graham Dance Company, among others. Her artistry gained her recognition in magazines like The New Yorker and made headlines nine times in the the New York Times.
As a teacher, she has participated in numerous international Tango Festivals: London (2009), Seúl (2010), Beijing (2009), Hong Kong (2012), Paradise Bali (2015), Sydney (2012 & 2014), Red Carpet Tango Festival (Las Vegas, 2012-14), Argentina's Dancing with the Stars, Yakarta (2013), Japan (2009-2010), Toronto (2011), Istanbul (2015), Caserta (Italy, 2016), Colombia, Germany, Mexico, Greece, Baltic Nations, Stockholm and many more.
Recently has been teaching seminars, workshops and performing in New York NY, San Francisco CA, Washington D.C., Maryland, Virginia, Salinas CA, Albuquerque NM, Miami FL, El Paso TX, Los Angeles CA, San Diego CA, Honolulu and Kailua HI.
In Argentina, Analia is the founder of Centurion Tango Academy in Chacabuco, Buenos Aires, where she has taught and directed her school for more than four years.
More information at: www.tangocenturion.com