BUENOS AIRES TANGO TOUR 2018: dates & info coming soon!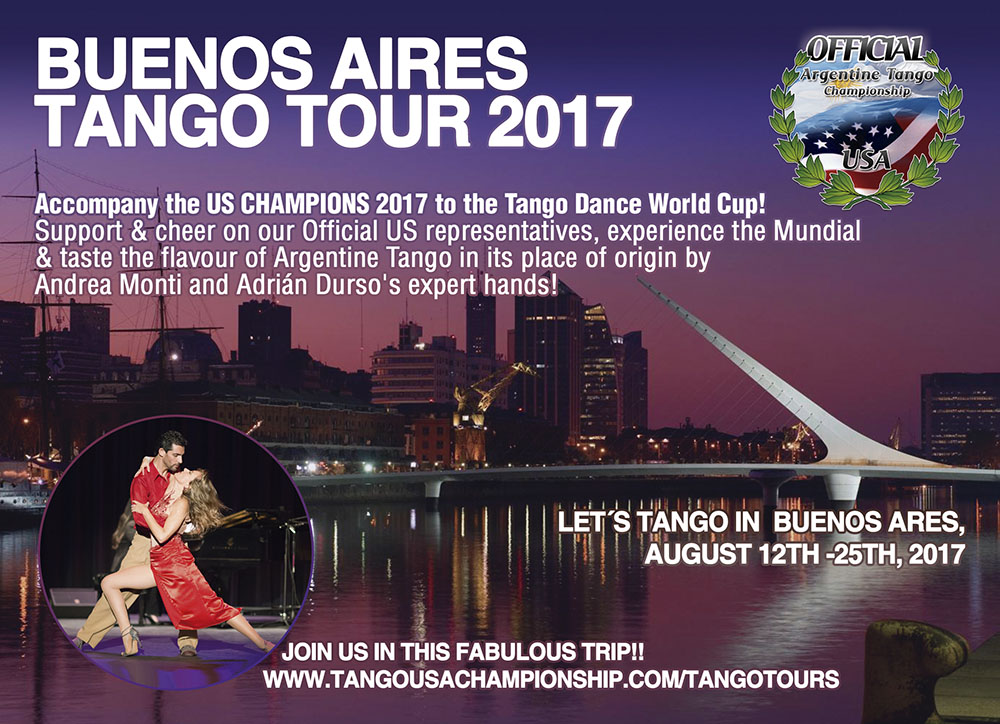 Accompany the US OFFICIAL CHAMPIONS 2018 at the Tango World Cup!
Support & cheer on our Official US representatives, experience the Tango Dance World Cup & taste the flavor of Argentine Tango in its place of origin by Andrea and Adrian's expert hands!!!
 DATES : mid August (specific dates to be confirmed soon)
 LIMITED SPOTS! BOOK NOW!
14 days, 13 nights accommodation at a 4 stars Hotel with breakfast in a safe, convenient location.
Walking Tour in downtown (Florida St, San Martín Square, Santa Fe Av, 9 de Julio Av and Avenida de Mayo).
Welcome dinner in a typical Argentinean "restaurant parrilla" (grilled meat), all inclusive.
Full Day City Tour in private bus to fall in love with the elegant European style city of Buenos Aires (lunch included): our  bilingual guide has extensive knowledge of the city's history, art, architecture and tourism (7-8 hours duration tour especially designed for us!).It includes: A) Historic circuit; B) San Telmo neighborhood; C) Plaza Dorrego; D) La Boca neighborhood; E) Puerto Madero; F) Retiro and Recoleta neighborhoods ;G) "Palermo Chico" residential & Embassy area; H) Palermo Woods and I) "Mataderos" Arts, & Crafts Gaucho's regional Fair where you can buy local arts and crafts products at incredible prices.
8 private group workshops (12 hours of instruction in total)  for our group with our selected experienced tango teachers.
Class assistants: skilled tango dancers hired to assist you to create gender balance and a nice experience for everybody during the classes.
10 milongas  (ticket entrance included) Chosen between those "emblematic", "hidden", "cozy", "lovely", "interesting" dance clubs in Buenos Aires city.
Dance assistants: skilled tango dancers hired to attend some milongas with us.
Tickets to attend to the Final rounds of the Tango Buenos Aires Dance World Cup for both Tango de Pista and Stage Tango Categories!
Tickets to go to attend tango Orchestra Concerts/performances at Tango Buenos Aires Festival and Dance World Cup.
Amazing Five stars Dinner Tango Show at "Esquina Carlos Gardel" You'll taste a delicious meal after which you will watch a breath-taking, world-class Tango Show at this traditional especially designed tango house . The incredible skills of the dancers on stage, together with the place's fantastic atmosphere, excellent cuisine and flawless service, make for an experience you won't forget.
A day at the "Pampas" countryside to get to know another dimension of Argentinean culture and landscape,  with "fiesta gaucha", "asado criollo" (barbecue), singing, dancing, "gaucho show", country activities such as riding horses and much more. Private transfer in/out included.
Private Guided visit to Recoleta Cemetery and Del Pilar Church (with bilingual guide) + Walking tour along Alvear St & Buenos Aires Design. + Optional: coffee at typical Café La Biela in Recoleta.
Shopping day for tango souvenirs, shoes and clothes.
Last night Farewell Dinner at a nice typical restaurant in Palermo or downtown. All inclusive.
24 hour personal assistance by Andrea & Adrián.
+  Many other things that will come up at the moment!!!
Extra information and inquires: tangoandreamonti@gmail.com
OPTIONAL EXCURSIONS & SIDE TRIPS available upon request:
A Day in the Tigre and Delta: stop in San Isidro to visit the Cathedral and walking around the square; enjoy the great delta rivers on a motor boat ride around the islands; great lunch, and relaxation time on a river beach. (Please note that we will need a group of 5 people in order to book this additional excursion)
SIDE TRIPS TO Iguazu Falls, Bariloche, Peninsula de Valdes, Mendoza and more!!! (Please note that you will need to book this side trips in advanced).
---
Refund Policy:
Full Refund till June 7th, 2017

Full Refund minus $400 till June 15, 2017

Full Refund minus $800 till Jun 30, 2017

Full Refund minus $1,300 till July 11, 2017

Full refund minus $1,900  till July 31, 2017

NO refunds from August 1, 2017