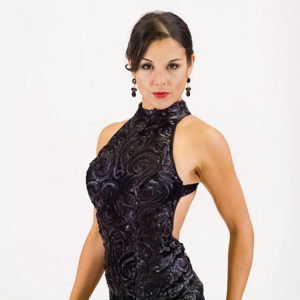 Guadalupe Garcia started dancing when she was 5 years old with Argentine Folklore and at 12 she started with tango.
When she was 18 she got the degree of Argentinean Folklore Teacher.
2004‐2010 ‐ Member of the UBALLET (Ballet de la Universidad de Buenos Aires), Mora Godoy's Tango Company, Juan Corvalán's Tangomalambo's Company, and Roberto Herrera's Company, with tours which travelled worldwide.
2005‐ 2006 ‐ Italy: shows "Tango Querido" (Barletta), "Noche porteña" (Matera) and "Patio Argentino" of Tango and Folklore (Roma)
2007‐2008 ‐ Greece: lessons, seminars, and dancer of the show "El Bandoneón", Athens.
2011 ‐ Misterio Tango Festival (Argentina)
2009 ‐ 2012‐ She traveled to various cities in South America, Europe and Asia, teaching courses and seminars.
(Greece, United Kingdom, Poland, France, Italy, Portugal, Dubai, Brazil y Chile)
2012 ‐ Korea (World Yeosu Expo), dancer of the show in the Argentina's pavilion.
2007 ‐ until now‐ works in local tango shows in Buenos Aires, such Complejo Tango,
Michelangelo, Taconeando, Piazzolla Tango,Gala Tango and Tango Porteño.
2014 ‐ Principal Dancer at the show Glorias Porteñas, partnering Juan Carlos Copes.
2015 ‐ Tango e Paixão's Show (Brazil)
2015‐2016 Principal Dancer at the show Piazzolla Tango Tango Cabaret's
Show‐ Teatro Avenida ‐ Buenos Aires. Classes and performances in New York, Washington DC, London, Moscow, St Petersburg (White Nights Festival) Los Angeles, Miami and Toronto (Canada.
2017- Official Judge at ATUSA Official Tango Championship and Festival, US branch of Tango Buenos Aires dance World Cup
2017: Cast of Loyd Webber's "Evita"