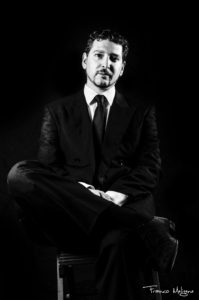 Diego Lanau began studying tango in 1997. In 1999 Diego joined the Mora Godoy group in Club Almagro where he met his first tango partner, Natalia Arcidiacono.  Diego participated in a variety of tango competitions. He became finalist in the Sin Rumbo Club in Villa Urquiza and in December 2003 was crowned champion, by a nearly unanimous public vote, in Club Saraza.
2006 marked the beginning of international travel with the San Francisco Bay Area as the first destination. Between 2006 and 2008 Diego traveled to teach in several cities in the USA: San Diego, Los Angeles, Chicago, Cleveland, New York, Reno, Lake Tahoe, Las Vegas and Aspen and worked in the Portland and Seattle Tango Festivals in 2007. In 2009, his travels expanded to Europe, where he taught and performed in Italy, Spain and France. He returned to Europe in 2010 to teach at the Kerallic Tango Festival in Bretagne. Also in 2010, Diego was invited to participate at the Antipánico Festival in San Francisco.
He has taught in many cities in California since 2011 such as San Francisco, Los Angeles, Oakland, Modesto and Sacramento among others. Also, he was invited to perform at ATUSA Official Festival and Championship to perform as Special Guest Dancer in 2013.
In 2015, he worked at the Tango Festival in Sabadell (Spain) and formed part in the Jury Panel of the Tango Competition in Los Angeles.
Diego continues to teach and perform in Buenos Aires and the USA till today.