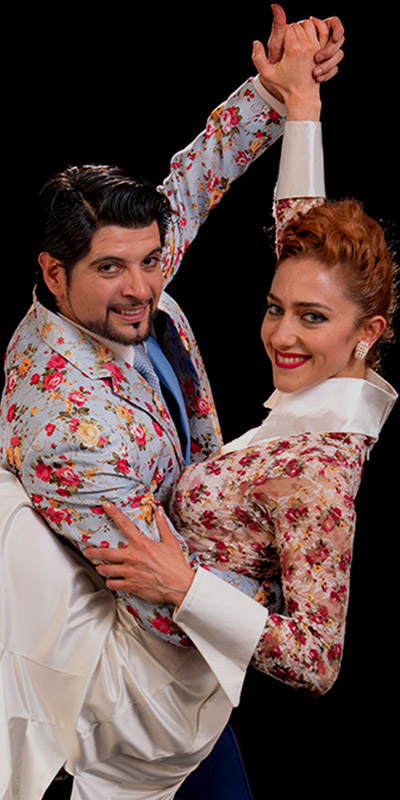 Cristian Correa
Cristian Correa was born in Cordoba, Argentina where he started dancing Argentine Folklore at the age of five (typical from his birth place) and shortly after that Argentine Tango.
He also studied classical ballet at the Teatro General San Martin in Cordoba. Shortly afterwards he moved to Buenos Aires to master his training with legendary teachers including Nicolas Cobos and Paola Jean Jean, Sabrina and Ruben Veliz, Claudio Gonzalez and Melina Brufman, German Cornejo, Roberto Herrera and Maria Nieves among many others.
He won 1st place at the Festival Nacional de Folklore for best stage tango couple in 2005.
He has performed throughout Japan, China, Africa, Europe and South America in productions; Dramatic Tango with Min-On Foundation, Argentine Consulate Expo in Shanghai, China, Tanguera the musical tour in Germany, Tango a Tierra in South Africa, Compañia de Roberto Herrera in Italy and France, Mora Godoy's Tango Ballet, Un Viaje al Sentimiento in Brazil, Acuarelas Americana's Festivales de Cosquin and a dancer with the Royal Caribbean Cruise.
Mr. Correa has appeared in several films, including Un Tango Mas, the story of tango icons Maria Nieves and Juan Carlos Copes, produced by Wim Wenders as well as the film Homero Manzi.
He represented Cordoba in The Tango Mundial Championships where he was awarded sub-champion for a record of three consecutive years. Between 2012 and 2018 he also took 7th, 5th and 3rd place. He took 1st place in stage tango in the Danza tu Danza International Championship in Cordoba, Argentina in 2018.
He has danced in the most renowned tango shows in Buenos Aires, including Esquina Carlos Gardel, Tango Porteño, La Ventana and Hotel Faena's " Rojo Tango".
Correa has performed in the most famous and historic milongas in Buenos Aires including, La Baldosa, Salon Canning, La Viruta and El Gricel.
For the past 4.5 years he has been the choreographer and director of El Querandi Tango show in the heart of Buenos Aires. Most recently Correa has created, directed and produced two full length productions; Carmen A Tango Story which premiered in 2016 in the Teatro Margarita Xirgu and SynopsisTango which premiered last year at the prestigious Metropolitan Citi Theater in Buenos Aires where it received standing ovations and raves reviews.
Mr. Correa is one of the most highly sought after teacher, performer and choreographer of his generation known for his unique style and dynamic presence.
As maestros Cristian and Leah have taught at countless schools and festivals throughout Argentina, Chile, The United States and Europe. Most recently they toured Budapest, Germany, and Italy teaching tango salon as well as their unique and highly sought after stage tango workshops. In Buenos Aires they regularly teach private lessons and do choreography coaching.
Leah Barsky
Leah Barsky was born in Germany and grew up in NY. She has been dancing since the age of five.
Ms. Barsky is a cross-disciplined performer, and is highly proficient in classical ballet, contemporary dance and Argentine tango. She trained at The Julliard School, New York State Summer School of The Arts, American Dance Festival and California Institute of the Arts.
Her professional career started at the age of 17 with the Nai Ni Chen Dance Company in NYC where she performed internationally in some of the most prestigious contemporary dance festivals including the Silesian Dance Festival in Poland and the Chang Mu Int Arts Festival in Seoul, Korea. Then she went on to work with NYC based companies Armitage Gone!, Doug Varone, Westchester Ballet Theater, Tango y Mas in Mexico City and Tango 1st Century in Quebec Canada just to name a few.
She has vast experience as a tango dancer including the New Generation Dance Company between 2004-07 in productions including El Rey del Tango, Black and White Tango, and Aires de Tango. Also she performed on Broadway with the Romulo Larrea Tango Ensembles production Tangos from Gardel to Piazzolla. She has performed throughout the U.S, Asia, Canada, Europe, Chile and Argentina.
In 2014 she danced in The Mark Morris Production of "L'Allegro, il Penseroso ed il Moderato" at Lincoln Center in NYC. Ms. Barsky has also appeared as a principal dancer in several productions with The Chicago Lyric Opera and The Metropolitan Opera including, Les Troyens, La Sonnambula, Rigoletto, Iphigenia en Tauride, The Damnation of Faust, Show Boat and The Merry Widow. She was also an original cast member in NYC's Malbec in the first "casa de tango" to open in the US.
She has been living and working with her partner Cristian Correa in Buenos Aires for the past four years and today is one of the best outstanding tango performers of the new generation. Together they have danced in the most renowned tango shows, including Esquina Carlos Gardel, Tango Porteño, El Querandi Tango and Hotel Faena's Rojo Tango. She has performed in some of the most historic milongas in Buenos Aires including, La Baldosa, Salon Canning, El Gricel and La Viruta.
In addition, for the past five years Barsky has danced as one of the top finalists in the Mundial Tango Championships in Buenos Aires.
In 2018 she took first place in stage tango in the Danza tu Danza International Championships in Cordoba, Argentina. As a cross-cultural person and multi discipline dancer, Ms. Barsky is a unique performer and insightful teacher. The New York Times raved that Ms. Barsky is "sensual and direct and… the most compelling" performer.