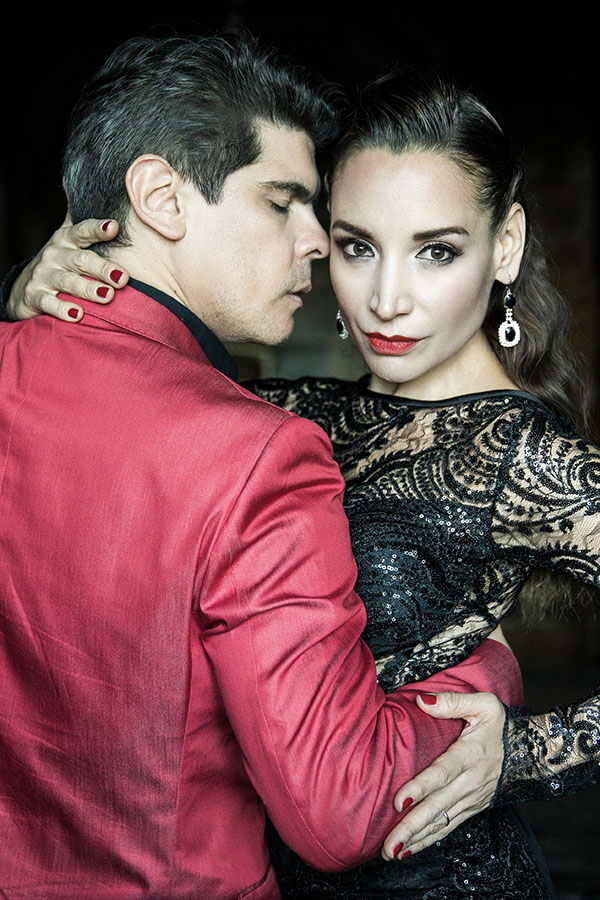 Dancers, choreographers and masters of Argentine Tango, Adrian and Alejandra have been a professional couple since 1998. They rapidly became one of the most recognized couples of argentine tango of our time. Their impressive scenic interpretation and expressive capacity are received with enthusiasm in theaters and stages worldwide.
They were protagonists of the most important and acclaimed tango events as well as in the international tango festivals of the last 15 years (in cities such as Berlin, Rome, London, Paris, Lisbon, Athens, Istanbul, Dubai, Montreal, New York, Dallas, Boulder, Miami, Catania, Nice and others).
Since 2002 they have also been main master couple at C.I.T.A. (International Argentine Tango Congress) and the world dance championships organized by the world dance council.
They teach regularly in the United States at the Fred Astaire Studios as well as at several ballroom schools.
Between 2003 to 2010 they were choreographers and the main couple of the  "Otango", "Cincotango" and "Tanguisimo" tango shows which were  highly successful  in Europe and America.
Adrian and Alejandra have also shared stage events and shows with famous orchestras such as el Sexteto Mayor, Color Tango, El Arranque, Los Reyes Del Tango and Sexteto Canyengue.
As teachers they are known for their immense professionalism, great technique and teaching methodology.
Based in Buenos Aires, they are superb representatives of the new generation of tango dancers.
Since 2012 they are judges at the Tango Festival and dance World Cup in Buenos Aires.
BAILEMOS (Agosto 2016- Catania Festival)
GRISEL (Agosto 2016- Catania Festival)