Tomas Galván & Gimena Herrera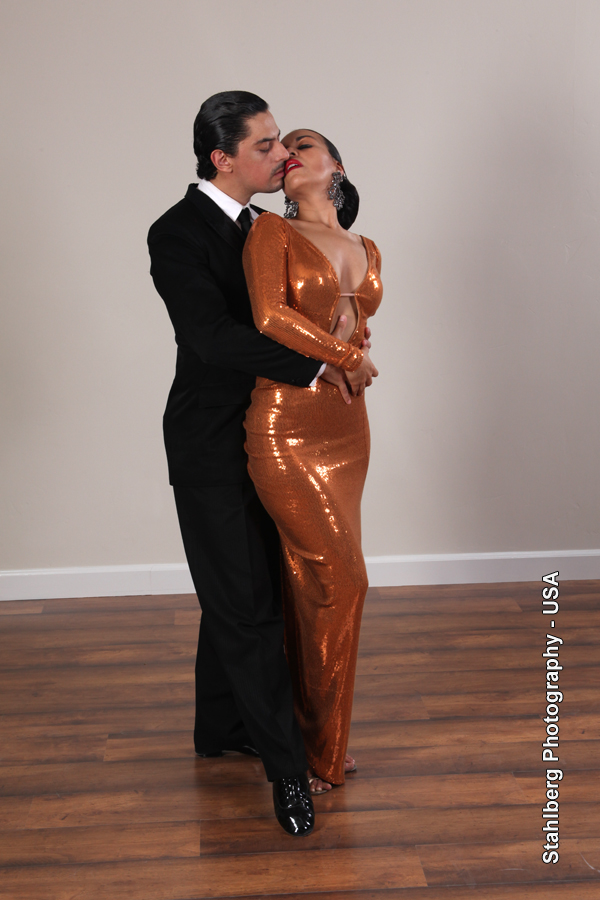 We met at a milonga called the House … a night of hot but fresh air of culture and art. She came from the sports-related disciplines, and the disciplines of body language and contemporary dance. Immediately after that,  the task of search and research for the tango dance began  in our beloved Catamarca, and we ended up with absorbing obsession leading to vigorous practice.
So began our first competitions, and shows at festivals, with good experiences and memories, but we felt we lacked a deeper understanding of what we wanted to do, and decided to embark on an adventure. Since we lived in Buenos Aires, this meant a constant discovery of life and art, invaded by multiple sensations, colors and teachings. We started to get different offers among the most prominent tango artists, having worked in the home tango "Taconeando" and "Piazzolla Tango" "Gala tango". Winning the second place in the Metropolitan Championship in "Tango Hall "and third in" Milonga " in 2009 brought us both immense joy.
We began another stage of our career when the prestigious dancer Natalia Hills asked us to be part of her company "Tangueros del sur" in 2010.  We felt honored to be directed and to dance alongside such an artist. With her company, we danced in several of the most prestigious dance festivals in the world; such as Vail International Festival and Jacob's Pillow Festival in the United States, International Festival of Tamaulipas in Mexico, and the International Festival of Israel in Jerusalem. Thanks to these events, we were contacted by different organizers and dance studios in the United States to teach and do performances.
During our stays as cultural ambassadors of  Argentina in Los Angeles and Italy in 2013 , we promoted the exchange of culture and art. The teaching process is one of learning. Living in other environments and breathing in new stimuli, we were inspired to expand our tango with new elements. Today, we continue on the path of discovery, combining the tradition of tango and other forms of art; and building up on audiovisual materials we made during 2012 and 2013. In the years 2013 and 2014 we joined the "Tango Macho" company, which toured more than 46 cities in Italy. We were also finalists of the tango world championship  (stage tango).
After having traveled many places, we felt the need to encourage our tango in Catamarca. Therefore, we founded "Company Malevaje", an artistic group. We enjoy being challenged with the process of creating, directing, and choreographing a work of history; fusing dance with theater. The show "Tango de raza", which we created, won several awards (among others in Cosquin and Poncho).
If we have to define our art, we would say that it is always energetic, visceral, furious at times, dense in silence and stillness; but never lukewarm. We are committed to the idea of what we want or need, following it as our own unique world down the abyss of our emotion.
In October 2015 we created our show "earth and fire walking" Inspired by Atahualpa Yupanqui, Argentine artist, poet, wanderer of the world and of life, "Earth & Fire Walking" Brings to the stage in dance form Yupanqui's belief that the landscape of the world parallels the landscape of relationships; made up of acts and colors, and traces two people celebrating life in every movement, every melody as they explore, know and love each other. It recently was presented in Argentina and had its American premiere in Palm Springs, the Coachella Valley Repertory theater, which was sold out.
Last July and August 2016 we participated in the show "Tangueros del Sur" at the MAIPO theater, one of the most important and legendary in Buenos Aires, as dancers and choreographer´s assistants.
During the months of October and November 2016 we toured Russia, Turkey, Italy, Greece and Spain, teaching and performing.
Show "Earth and fire walking" created by Tomas and Gimena and inspired by Atahualpa Yupanqui